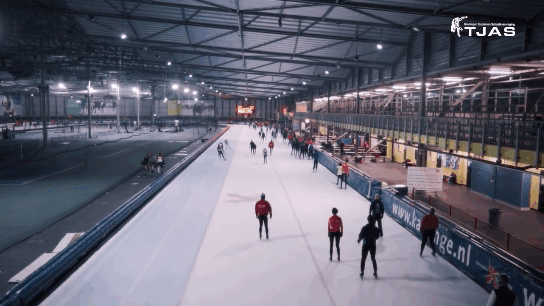 At Tjas, ice skating is possible on every level. Amateurs can train two times a week during our skating hours, more fanatical advanced ice skaters can become "speeders" so that they can train more often. Below you will find more information about the different ice skating groups with Tjas.
At the start of October, the ice rink will open again and we'll get started with the first ice skating trainings. You can find more information about the training times under the header "Sports".
During the winter season, we will have ice skating training on the ice rink Kardinge. You can have your card scanned at the entrance, and then you can go to the dressing room to put on your clothes and skates. You can't enter the ice rink without gloves! Walk from the dressing room to the ice rink with guards on your skates. When you enter the ice rink take off your guards, and put them on the boarding (the thick border around the ice rink). Then you can skate to your group; all the groups can be told apart by the colour of their vest.
Skating groups
At Tjas, there are no less than twelve different skating groups, so there's always a group that fits you. These groups are supervised by experienced trainers. There are three different kinds of groups: learning, training and speeder groups. You can find more information below.


Learning groups
From beginner to ice skater who can make smooth curves and speed up in them. You will go ice skating 2x a week during Tjas hours, want to learn how to skate better and that is why you'll be present a lot. General goals: posture, curves, standing straight on your skates, sideways push-off and gliding on one leg.
People who have (almost) never skated or for whom it's been a while, or only on figure or ice hockey skates. In this group, you learn basic techniques make progress with ice skating.
Goal: skating one (or multiple) lap(s) by yourself.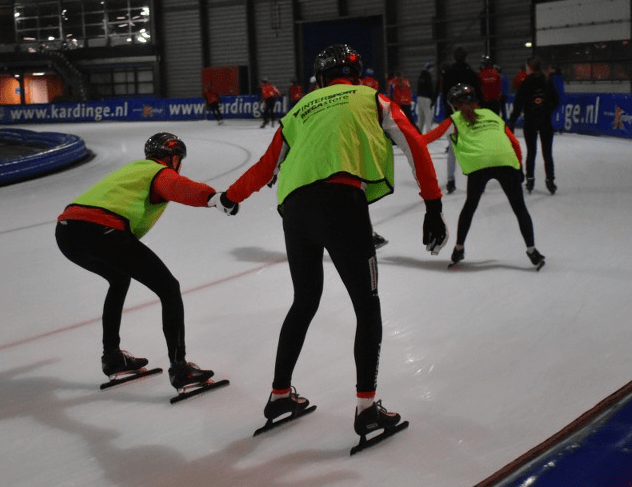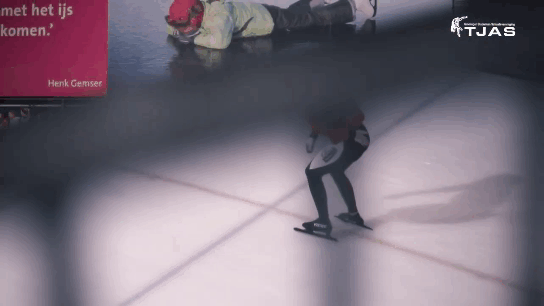 People with some experience on the ice. First, we'll look at the basic posture and technique. Every now and then we'll talk about curves.
Goal: gliding well on one leg and in skating stance and riding a few laps with a couple of crossovers in the curves.
Here we'll work on the curve. We'll also work on the following things while riding straight: sideways push-off, standing straight on the skates and deep skating position.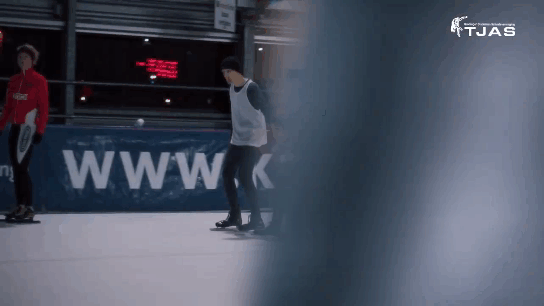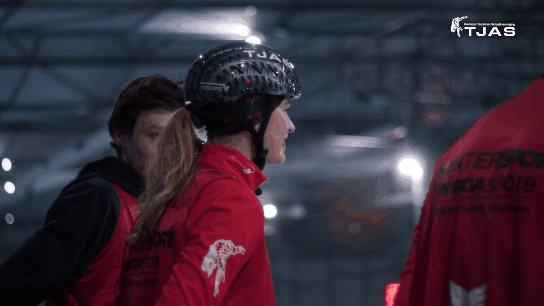 From this group on, the general technique is further improved, the biggest goal being to learn how to cross over during the full curve. Furthermore, this takes a greater toll on your fitness and we'll work on increasing your speed.
In this group, the technique is inspected more closely and the fitness is put to the test.
Goal: riding fast for a few rounds, building up a good skating fitness.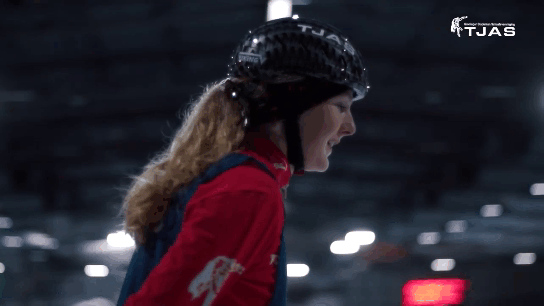 Training groups (3, 2, 1)
This is where the Tjas skaters with more experience train. The level is about blue and beyond. Basic technique is further elaborated on and speed is increased. Technique is okay to good and the training is faster paced. The technique is further refined and the fitness is increased. Approach is training-focussed.
Goal: being able to skate faster and more beautifully and often or always coming for trainings.
Speeders (4, 3, 2, 1)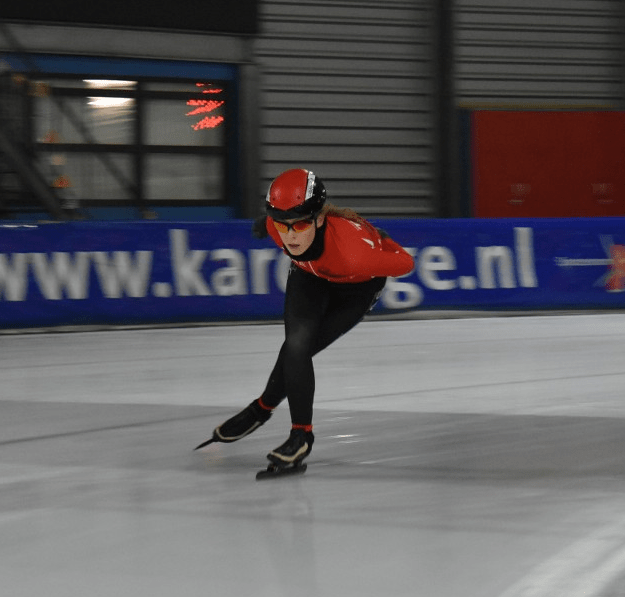 This is where the race-focussed Tjas skaters train. The level is about group blue and beyond and divided into HR 1, 2, 3 and 4. The riding technique is good and fast-paced. The technique is further refined and the fitness is developed. Training takes place on more days than during Tjas hours so there is more room for individual attention. Approach is race-focussed: you can ride a race almost every weekend, with Tjas coaches present.
Goal: skating faster and more beautifully, riding IUT/NSKs in the best categories.





Speeders are fanatical skaters. Your skating level has to be just as good as or better than learning group Blue. In practice, this means: being able to cross over during the full curve, and speeding up at the same time. Speeders train 3 times a week, under supervision of experienced trainers. Aside from that, speeders have a license, so that they can do a race almost every weekend.

The training times are:
Monday 17:15 – 18:15 OR (depending on your level)* Thursday 17:45 – 18:45
Wednesday 16:30 – 18:00
Sunday 18:30 – 19:30
*Speeder group 2 trains on Mondays, Speeder groups 1 and 3 train on Thursdays (season 2021-2022).

A quick summary:
● 3 training sessions a week;
● 1 session of free skating a week (or leading a training);
● A fanatical and close-knit training group, with experienced Tjas trainers;
● Ice skating during calm hours on good ice, and on Wednesdays even for 1.5 hours;
● Races almost every weekend, with participation only costing €5;
● Costs are: ~€195 (rink card) + €37.50 (optional license for races)
● You can earn part of your rink card back if you lead 1 training a week during the Tjas-hour that you don't have a training yourself.


Do you want to know if becoming a speeder suits you? Then train with the speeders a few times; send an email to the sports commissioner () and ask about a trial rink card, you will receive this back if you decide to remain a speeder). With this card you can train on 5 Wednesdays and 5 Sundays!

Do you want to become a speeder? All you have to do is send the authorisation form to ().
Training language
The language that is used during training is dutch. However, the trainer will always make sure that you understand the training. It is often the case that after the trainer explains the exercises in Dutch, he or she will repeat this in English for non-dutch speakers.