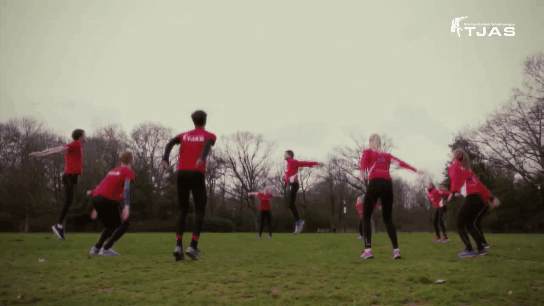 During the summer season, there will be dry training every Monday and Thursday. The training takes place in the City park. We leave from the athletics track of Atletiek Groningen, or, during the first four weeks of training, from the parking area of SC Stadspark at 17:45. The training will be led by professional, experienced trainers.
Dry training is ice skating training on land. All ice skating exercises are covered, such as jumps, sprints and elastics. The training is always for all levels. Dry training is great preparation for a fantastic winter, improving your technique and your fitness.
The dry training is split into two groups: Amateurs and Speeders:
Amateurs: Amateurs are the Tjas members who, generally speaking, have never
skated at race level before. During this trainings you will be physically challenged and you will learn the best way to do skating exercises.
Speeders: That is the group that has mastered the skating exercises and trains their skating technique.
Aside from these two groups, we have an extra group during certain times of the year:
First-year training: First-year training is meant for all first-years. During this dry training you will get to know your fellow first-years and the skating sport. Skaters of every level can participate in this training. The training will be led by the IntroCie of Tjas and start in the first week of the academic year.
Bata training: Bata training is meant for all Tjassers who are participating in the Batavierenrace. The trainer of this group is someone from the LoopCie.
In the summer, as soon as the dry training starts, it takes place every Thursday (departure at 17:45).
For the running/dry training you will need good running shoes. Make sure your running shoes are the right size and fit your feet (if you have flat feet you may need special shoes).
For dry training, we leave from the parking area of SC Stadspark: